The perfect moonstone ring for a perfect Hawaiian wedding proposal
---
When Neil decided to pop the question to his beautiful girlfriend Valentina, he already had a specific engagement ring in mind. Little did he know he would have to look to the other side of the world to find one perfect for the occasion.
→ Romancing  the stone ←
Neil knew exactly what he was looking for in an engagement ring: namely, one set with a moonstone. As one of Valentina's favourite gemstones, it was the only choice to represent the love that binds them.
→ A love that spans oceans ←
Living on the paradise Polynesian island of Hawaii, Neil had problems finding the perfect ring for proposing. With no local jewellers able to help him out, he found us on the internet. More than seven thousand miles and two oceans away, our Wirral workshop could not have been any further afield, but Neil didn't care. He had found just what he wanted on our website.

→ The one ring ←
Our moonstone engagement ring consists of an elegantly simple wedding band in sterling silver. The band is set with an impeccable 10mm cabochon moonstone, beautifully rounded and polished. The overall effect is simply stunning – certainly, Neil thought so.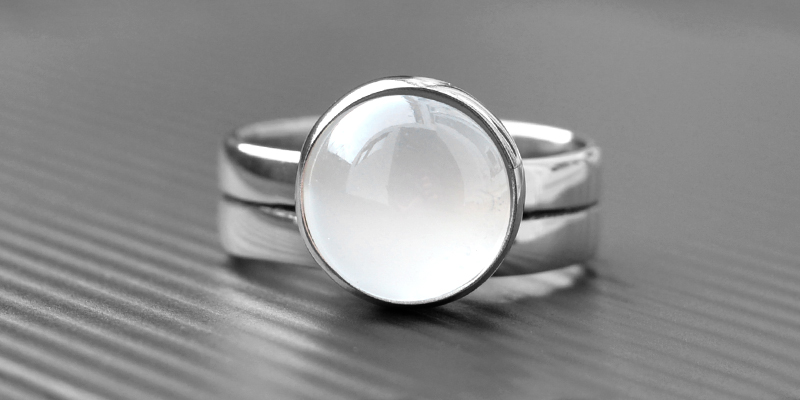 → The happy moment ←
Neil proposed to Valentina in their back garden in Hawaii, catching her completely off-guard. Presenting her with the moonstone engagement ring, he was delighted to tell us that she said "Yes" and that the wedding was officially on!
Here's what the groom-to-be had to say:
"Thanks Lisa – she loves it! Looking forward to more orders coming from Hawaii. Going to tell everyone where I got the ring and how great you are to work with. Thanks again. Aloha"
It warms our hearts to know that something crafted with love and care at LWSilver has united a couple on the other side of the world. We wish Neil and Valentina all the love and luck they deserve as they embark on married life together.

At LWSilver, we deliver our quality jewellery all over the world. Near or far, you can rely on us to produce an exceptional moonstone ring for any occasion. Check out the product page for more information.