---
Nothing makes us happier here at LWSilver than when one of our customers comes back to us with a great story. That's what happened with the lovely Oli after he had commissioned us to create a stunning engagement ring for him.
→ New York, New York ←
Oli and his beautiful girlfriend Lorna were on holiday in New York, checking out the sights. As they passed through Times Square – one of the busiest thoroughfares on the planet – Lorna had no idea what Oli had in mind. She didn't even know that he was looking at rings, let alone that he had bought one specially-made.
→ A thing of beauty ←
The ring was hand made in our studio, combining sterling silver and 9ct yellow gold to stunning effect. A simple silver band acts as the foundation to a trio of gold claw settings, giving the ring a distinct and antique appearance. The centrepiece is a brilliant cut 0.24ct diamond that refracts the light in exquisite facet-shadows deep into the stone. On either side you can see the 0.28ct turquoise sapphires. These smoky and lustrous gems create a magnificent sense of balance to the finished piece.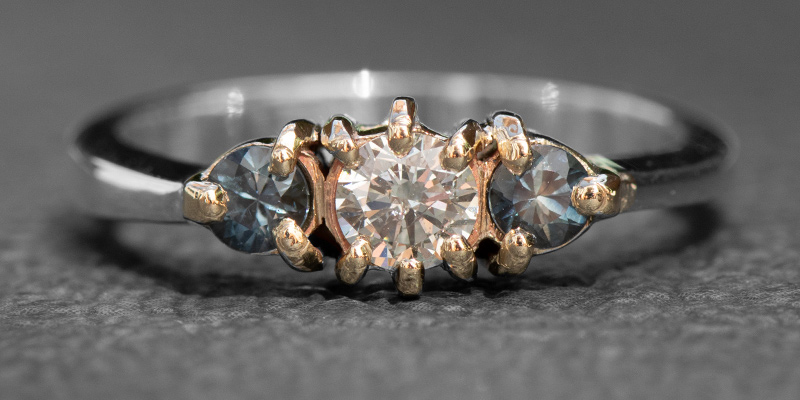 → Back to the Big Apple ←
As our loving couple sauntered through Times Square, Oli pointed out a cluster of people a little way ahead, stood with their backs to them. Nothing unusual about that in New York – the home of weird performance art. No, the twist came when they removed their jackets and turned around, revealing white T-shirts emblazoned with the message: MARRY ME.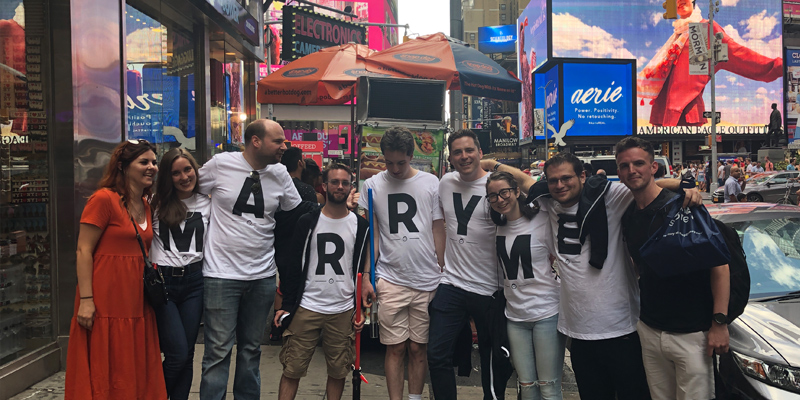 → The moment of tension ←
Oli dropped to one knee, as tradition dictates, and presented her with the ring. As for her reaction… well, why don't you check out the video below that Oli sent us, keeping the happy moment for posterity.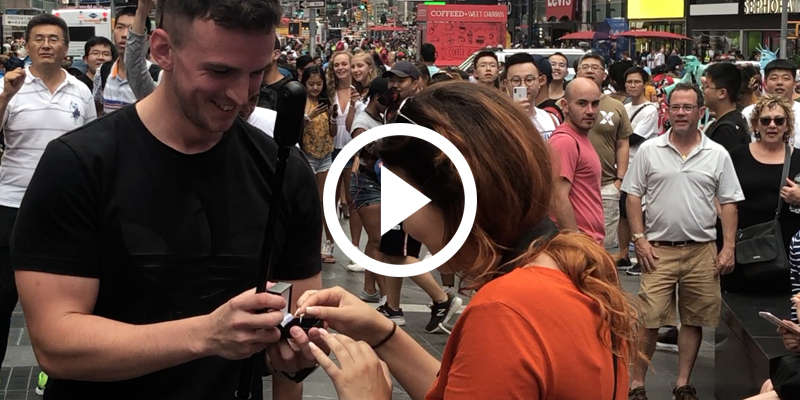 I needed a ring… So I got in touch with Lisa and explained my idea, budget and timescale.

Lisa was brilliant and so helpful, she showed me various examples and styles, which gave me some really good ideas. Being a designer myself, I wanted the ring to look a certain way, so I put across my idea. Lisa came back with a design and some amazing suggestions which really perfected what I wanted.

When Lisa presented the ring to me, I was blown away… It was better than I ever could have imagined. I knew I was in for some brownie points!

Of course my new fiancé was absolutely bessotted by the ring and has loved showing to anyone and everyone.
→ Exquisite jewellery made to order ←
You can see the extensive range of beautiful jewellery we have here at LWSilver, simply by browsing our website. However, if you have something special in mind, be it an engagement ring or anything else, we can create something unique to you. We can't promise your other half will say yes, but we can promise an exquisite ring to propose with.
Video by TJ Hart
T.Shirt design by Spectrum Designs Foundation